Natural Hair Care Products
HairFit uses only the best products that are created from nature to create beautiful healthy fit hair.
Kelly is fully trained in each product and is constantly keeping in touch with product development and training which makes her an expert in product knowledge which ensures she can recommend the best products to suit your needs.
HairFit is proud to use and recommend Vitafive CPR product range because it is made using natural technology.
Natural Technology
Kelly endorses and chooses products that use natural technology that are created from the best ingredients available and that are perfectly balanced to care for your hair.
Coloured Hair
The Vitafive CPR Hair Care range of colour and products will make your hair shine.
You can purchase after salon hair care that is specially created for your hair type.
Olaplex is an amazing repair, strengthening and protecting product that is designed to assist Kelly in getting your hair to ultimate Hair Fitness!
Natural, Safe and Gentle
Sulphate Free : Vitafive has been using a coconut base in it's shampoo's for over 20 years and was one of the first haircare manufacturers in the world to start using sulphate free alternatives.
NOT made from Palm Oil
Vegan friendly
Paraben Free : Parabens are traditional 'mass-produced' preservatives. Vitafive uses a natural alternative to Paraben to preserve its products.
No added salt : Sodium Chloride is a cheap alternative used in the hair and beauty industry to make it's product thicker. However, salt can make the shampoo harsh, stripping the natural protective oils of hair, leaving it dry, brittle and damaged. Vitafive does not add salt to thicken it's products.
Vitafive CPR use natural product ingredients that are effective in every day treatments that are safe for you and your hair.
Eco-friendly
Never tested on animals
Committed and endorse this policy and use sustainably sourced, cruelty free ingredients.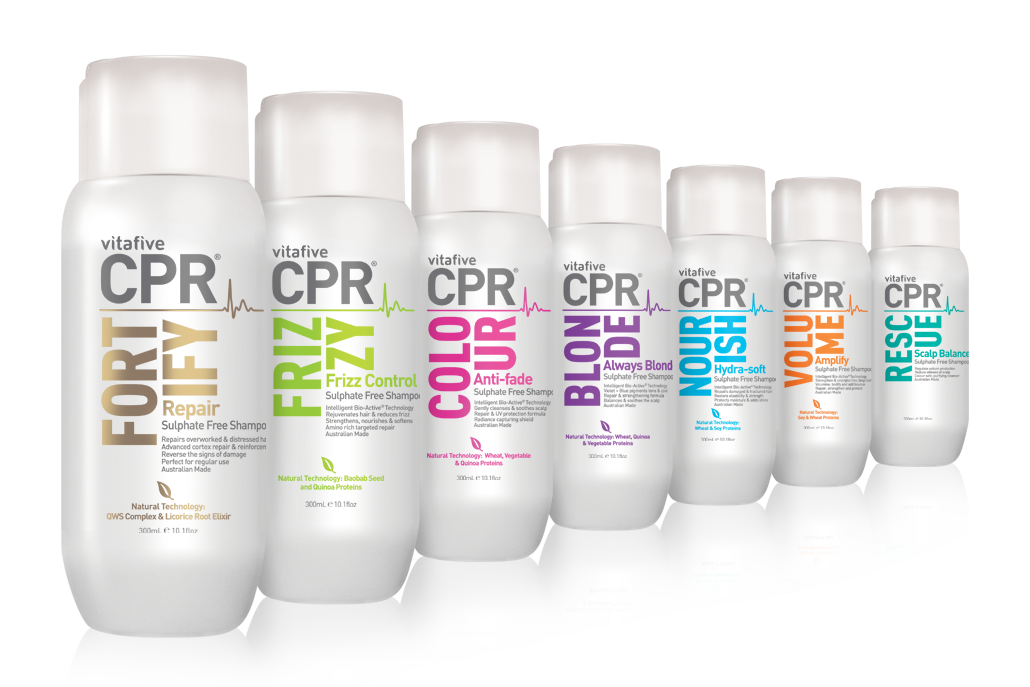 Vitafive CPR products provide expert haircare solutions for all hair types :
Repair, renew and protect
Smoothing frizz control
Maintaining perfect blonde
Anti-fade colour extender
Hydrate and softening dry hair
Bodify and thicken fine hair
Rescue hair and scalp
Long lasting style memory